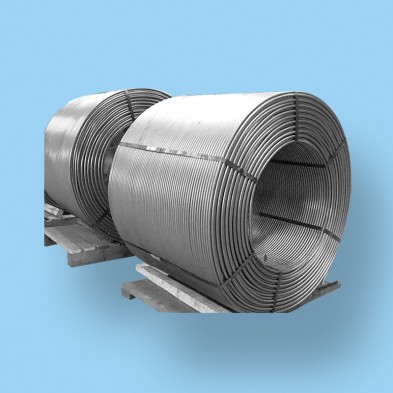 Cored Wire
Product features:
1. It is beneficial to adjust and control the content of oxidizable elements and trace elements, greatly improve the alloy yield, reduce the smelting cost, shorten the smelting time, and accurately control the composition.
2. It can purify the liquid steel and change the character and shape of some inclusions, improve the quality of molten steel and casting state.
Product Details
Cored Wires So Demand In The Welding Industries?
In the welding places, multiple products are being used. The core wire is the major product that comes with more advantages. Generally, the cored wire is used in the steel industries to incubate manufacturing things. It may work for holding heavy metals by lifting that from one place to another. If you are in the manufacturing industry and need to buy high standard steel wires, you can contact Nanjing Difeng Composite Material Co, Ltd. We manufacture and produce high-quality and well-tested wires. You can use this wire in construction places, automobile places, and many manufacturing companies.
Proper Delivery System:
As we know the importance of making this cored wire, we don't deliver our products without an improper packing system. Well-formed wrapper boxes have been used to pack the cored wire. You will receive the product within business days. We offer multiple sizes with different wires; according to your need of using, you can make your booking. We charge an affordable price for all sizes of core wires. Shipping costs would be quite low, and you can enjoy our product in your usage. As it is of a high standard, it comes for lasting years with effective works. If you decide to make your booking, you can contact us directly.
1. Type of filler
Nodulizers wire, Inoculants wire, Calcium silicon wire
2. Type of packing
Horizontal/Vertical
3. Size of coil:
| | | | |
| --- | --- | --- | --- |
| Length | Internal Diameter | External Diameter | High |
| (mm) | (mm) | (mm) | (mm) |
| 4300 | 600 | 1150 | 800 |
| 4800 | 600 | 1150 | 1200 |
4、Diameter of wire
Φ5mm、Φ8mm、Φ10mm、Φ13mm、Φ16mm
5、Thickness of steel belt:0.35-0.40mm
Special requirement for the alloy cord is available,
Plesae contact our Export Department.
FAQ:

Q: Are you a manufacturer or a trading company?
A: We are experienced manufacturers.

Q: Do you have stock?
Answer: Our company has long-term stocks to meet customer requirements.

Q: Can we customize special products?
A: Our company has a professional team to customize and produce various products for customers.

Q: Can you solve the problems encountered in the use of your products?
A: Yes. Our company has many experienced senior foundry engineers who have been in the industry for decades, who can solve all the problems in the use process for you.

Q: Do you have experience in reducing export tariffs or costs?
A: Our company has a professional team to reduce costs for customers.

Question: Does your company's production capacity meet customer needs?
A: Our company is strong and has the ability to meet the needs of customers for various products in a stable and long-term.

Q: Can you provide free samples?
A: Of course you can.

Q: How many days can you deliver?
A: Usually, we can ship the goods within 15-20 days after receiving the advance payment.

Q: Why choose our company?
A: (1) Our company has been engaged in professional production and sales of metallurgical products for more than 16 years.
(2) We have rich experience in foreign trade and can provide high quality and competitive prices.
(3) We can provide customers with 24-hour online service and good after-sales service.
Inquiry Now
Can't find the specific information you're looking for? Have a question ? Contact Us